10 Questions with Freelance Illustrator Quinn McSherry
Quinn McSherry is a freelance scenic artist and illustrator living and working in the greater Los Angeles area.
He talks about how attending conventions and creating personal work has led to professional jobs in the film and entertainment industry.
1. You do a lot of conventions. Is this your primary way of connecting with your audience? QM: For my personal work conventions are a large part of how I connect and get my work in front of people. I currently do two to three conventions a year and in the near future, I'm hoping to start doing five to ten. However, it's difficult to find the time around other work since each convention is on average one to two weeks of prep time plus the whole week of the convention itself. While working a convention it is usually too busy to allow for much else.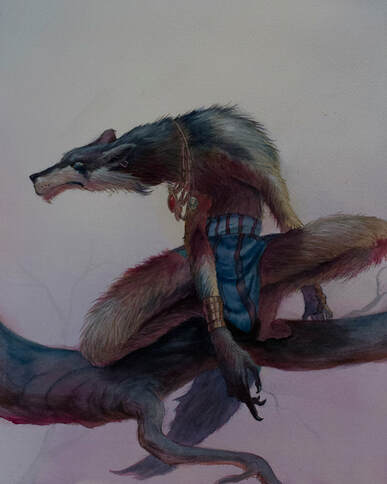 2. I see that you have a Patreon account. Can you tell me about your experience with this platform?
QM: I haven't had much success yet with Patreon but I have a lot of faith in the platform. I have many peers that are doing quite well and finding themselves able to focus more and more on their personal work. The initial problem with Patreon is convincing your audience to invest in the platform, but once they do it can become a very meaningful symbiotic relationship.
3. Your work seems primarily audience-driven. How did that come about?
QM: My work is at its heart a way for me to combine everything I love. As I've worked on Shards of Etheria more and more I've come to realize I really enjoy and thrive on audience input. The relationship between an artist and their audience should be mutually beneficial, and creating in a complete vacuum, in the end, makes your audience feel isolated from you and eventually they can lose interest. I want my audience to be as invested as I am in my characters and my work.
4. When working on a personal project like Shards of Etheria, how do you decide what to push next?
QM: Figuring out what to push next is an eternal struggle and question mark. Generally, it comes down to two key factors: what performed best at my last convention, and what I am most in the mood to currently work on. I try to strike a nice balance between these.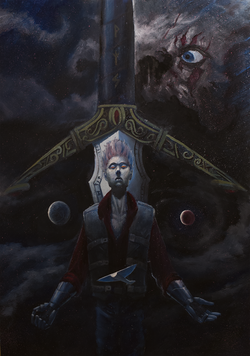 5. Where do you look for creative inspiration?
QM: I look everywhere. Other artists, movies, books. A creative should always be looking for inspiration in the things they love.
6. Do you take direction from your fans, or do you try to direct your fans? What works best in your experience?
QM: I try to make art and stories I care about and hope my fans enjoy it.
7. Can you tell me about your freelance work?
QM: A large part of my freelance work is under NDA so I can't go into great detail about current projects, however, I can discuss the nature of my work. Currently, I work as a freelance illustrator and scenic artist in the LA area. I split my time between freelancing from home and working in a number of shops around the Los Angeles area on event and commercial projects.
I've had some amazing opportunities including being one of the people working on Star Wars Land last year. This year I had the opportunity to work on Taylor Swift's new video "Me" which was a great experience. https://youtu.be/FuXNumBwDOM
8. How much time do you spend freelancing vs your personal projects?
QM: I spend the greater portion of my time right now freelancing. I am working towards spending more of my time on personal projects but it's a slow process.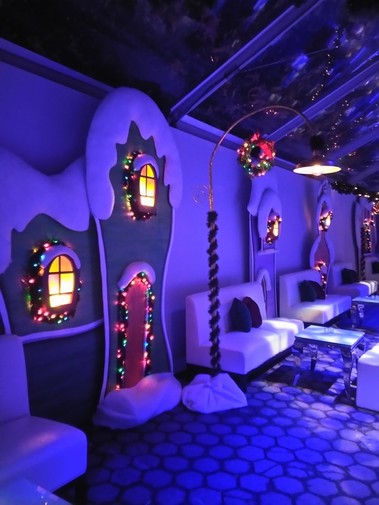 9. Have you found a way to make your personal projects as profitable as your freelance ones? If so, how?
QM: That's a tough question, as while my personal projects aren't initially as profitable as my freelance work, many of my freelance jobs come about due to my personal work garnering the attention of the people who hire me. Also, most personal pieces make me a great deal more profit over the course of their life because I sell them as prints and various merchandise.
10. How could you be more supported in your personal art and career?
QM: I feel incredibly blessed in my career and personal life, I have a greatly supportive family and partner and I have been finding a good deal of work that pays me enough to support myself. I simply hope to keep attracting a larger audience who will enjoy my work.
11. BONUS: What mindset do you think people need to make it as an artist today? QM: Hustle!!! There is no such thing as a lazy or one-track professional artist in this market. Have side hustles for your side hustles until something works out and accept there is no shame in taking a stable day job while you figure things out. It's a tough market and work is scarce. If you're new to your field you're competing with people who have a decade of experience who are just as hungry as you. There have been a lot of layoffs and massive power shifts in the entertainment industry and it's tougher than ever to make ends meet, so be willing to jump tracks when you need to.
You can see more of Quinn McSherry's work on his personal website, and Patreon.
Figuring out how to navigate the entertainment industry while maintaining your sanity can be hard, and having an outside perspective to help you make decisions that serve you and your vision for your future can be invaluable.
If you feel like you keep trying the same things and spinning your wheels, it might be time to work with someone to help you break out of the cycle. I'd love to help! Learn more about how I help artists break out of limiting mindsets and start honoring their worth and integrity here.