10 Questions for Art Director Mike Vaillancourt
Art Director Mike Vaillancourt talks about creating awesome teams, finding creative flow and becoming part of something larger than yourself.
---
I get the sense that you are a very team-centered director – that you truly want what's best for your team and to bring out the best in them. What made you decide to focus on team building as an artist?
Every organization is only as strong as its weakest link. We should share our experiences to help aspiring professionals and those that are our peers. I primarily work with freelance artists that live all over the world and my goal is to to create a fun creative partnership. When appropriate I'll impart what I've learned if I think it will help them grow. I not only want a fantastic piece of art for the game I'm working on, I want to help them produce a piece of art that they would be happy adding to their portfolio that leads to their dream studio job or could attract another client.
Ultimately I'm always looking for the opportunity to create, "WOW!", moments. What I'm referring to is any scene in a film, moment in a video game, or a piece of art that moves and inspires someone. I recently experienced one of those moments watching Spider-Man: Into the Spider-Verse. That film blew me away and it has had me contemplating pursuing a job in animation. 
Below: Zaateroth Cinema Spread, WARMACHINE: OBLIVION ©2019 Privateer Press Inc.
Illustration by Dhaniels Castillo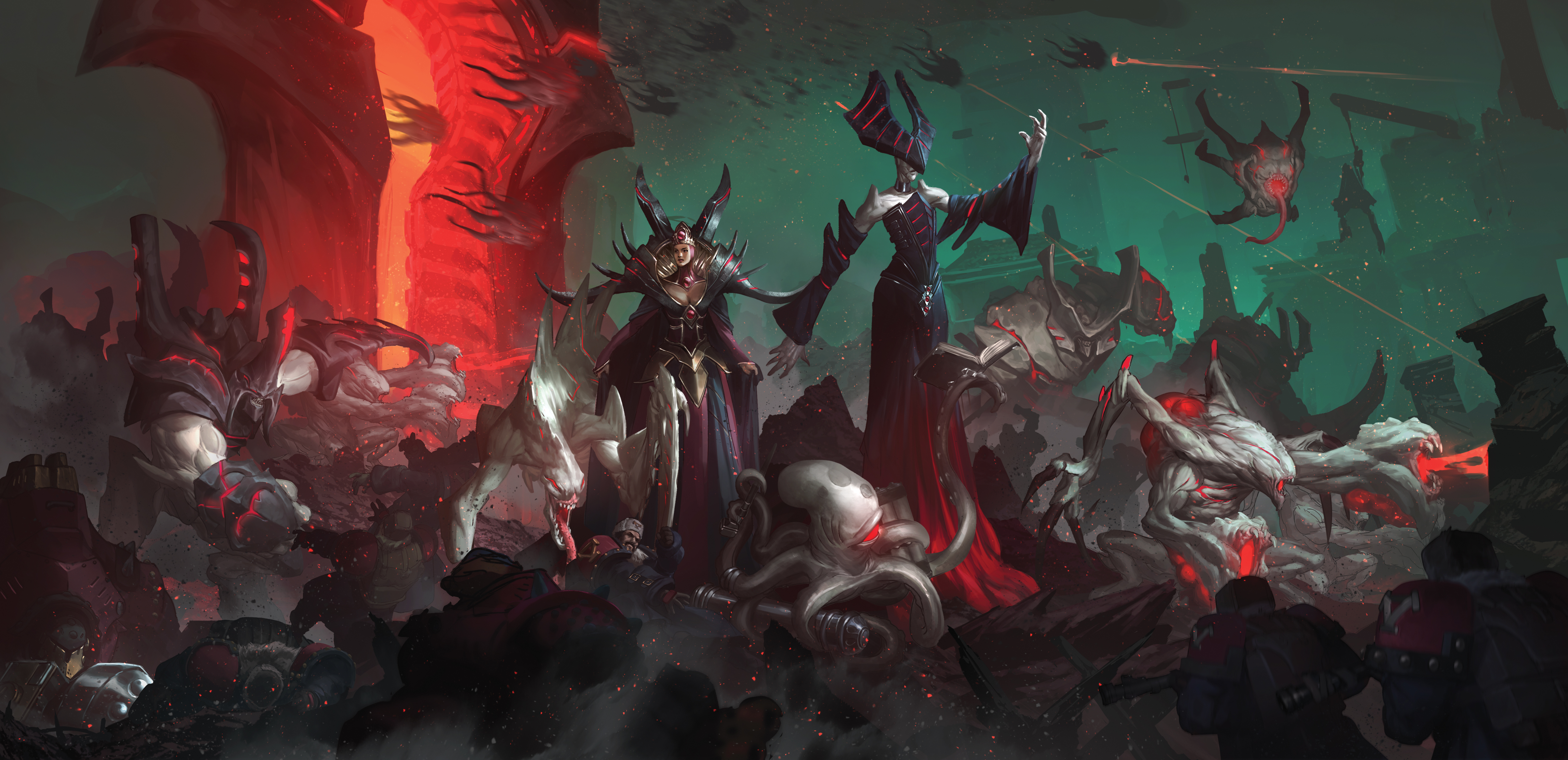 When you are directing a project, how do you decide who to bring in to work on it?
I focus on artists who have strong foundation skills. For illustration, I'm looking for strong compositions, mastery of perspective, anatomy, lighting, and a clear focal point. For concept artists, I'm looking for strong draftsmanship abilities and a solid understanding of anatomy, shape language, and design. 

On occasion, I will work with an artist that I think, with a little coaching, could produce work above their current skill level. Over the last few years, I've had less time to invest in that kind of endeavor and I've been focussing more on artists whose skill sets already display the mark of a seasoned professional. I'm also looking for work in the artists' portfolios that show that they already have a passion for working in settings like ours so that I know they'll have fun working on whatever project I'm assigning work for.
What drives the art you create and want to bring to life? Is there a common theme that always inspires you, or is it something else?
In everything I've worked on, I try to focus on the scene and creating a narrative even if the illustration is just calling for showing a single character. I try to ask myself what motivates them and figure out how I can show a bit of their personality even if it's a simple NPC with no name. Some of my favorite illustrations in RPG's are the quiet moments where we see day to day life outside of the adventure that focusses more on characters interacting with the world around them and not just with one another. I think it's incredibly important for the viewer to feel attached to the image and be able to imagine themselves in that world. 
Below: Dr. Halsey's Journal, Halo: Reach 
Artwork by Mike Vaillancourt
Left: Original Art Test submitted for the Halsey Journal assignment. 
Top right: A collage of original sketches before being placed into layout for the journal. 
Bottom Right: A spread used in marketing for the Halo Reach Limited Collectors Edition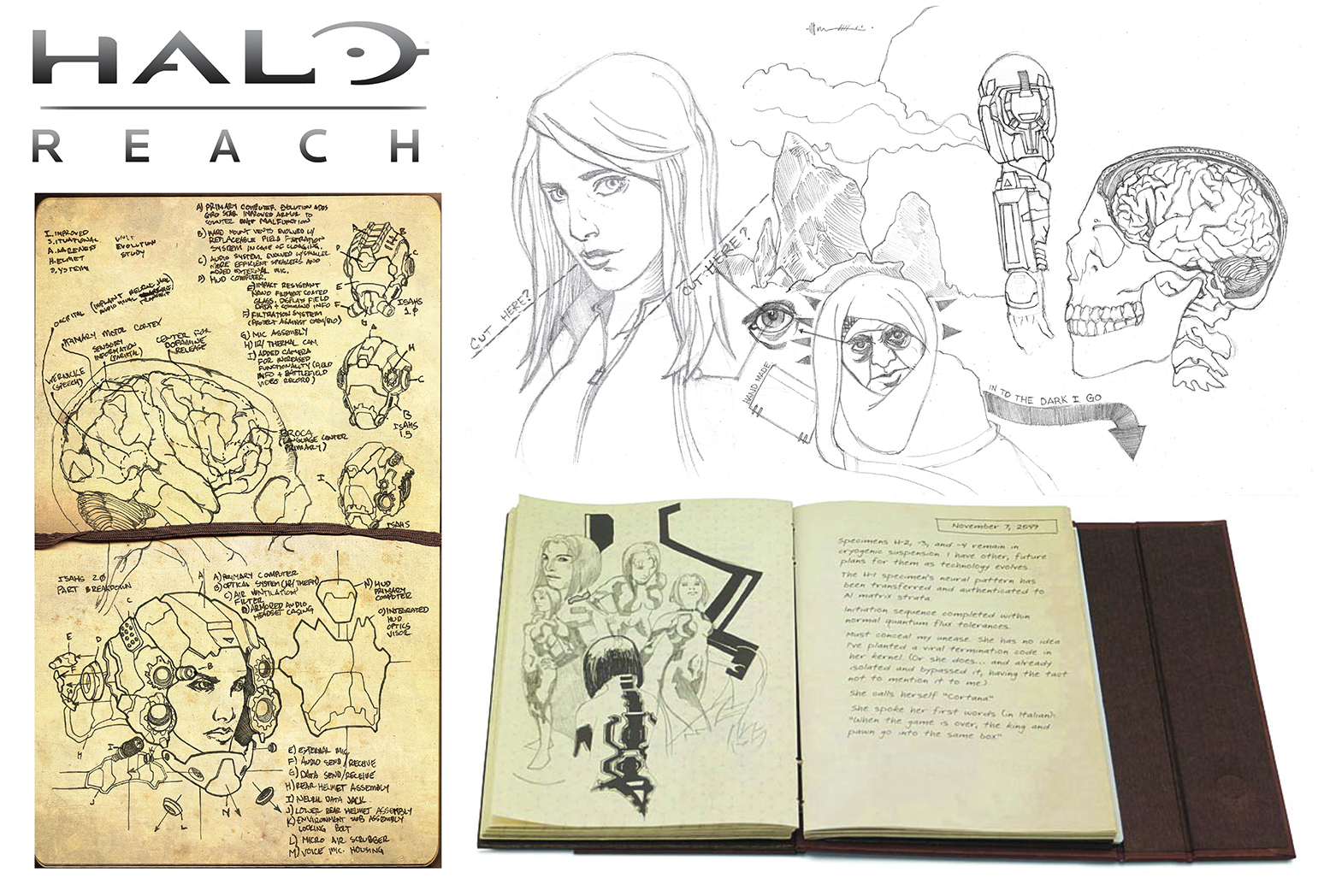 How would you describe working on personal art versus working on projects for clients?
Personal artwork these days tends to be for school projects. On top of my day job, I'm also taking 10 credits/semester to get my Associates in Game Art and Design. It has been fantastic learning Maya, Unity, Mudbox, and animation as they were all skills that I've wanted to possess. The project I've chosen to model in Maya this semester is Kevin Flynn's apartment (?) that he has just off the grid in Tron: Legacy, including the vintage light cycle. It's very minimalist in design but there are a lot of challenging aspects to the scene for a novice Maya user. 
For client work, it really depends upon what the assignment is but in every instance I've never thought of any job as me just working with a client. Every creative team that I've worked with has made me feel like I was brought in to be a part of a creative partnership. I try to approach each job with the goal of learning from the team while providing my take on the material. One example of this is from my time working on Dr. Halsey's Journal for Halo: Reach. On that project, I invested a lot of time talking with the writers and creative team about how she thinks with the goal of getting into her headspace while I was drawing. I have to admit that trying to draw like a scientist that isn't a trained artist was a fun challenge!
What are your favorite projects to work on, and why?
Projects that challenge me to create something that doesn't have an established visual precedent are my favorite! I also love collaborating with other creatives where we can inspire others and not have to adhere to a strict visual rule set. I'm a world builder at heart, and that's where RPGs have given me the ability to have fun. I've found great joy in creating new worlds and helping develop existing settings in a way that is either a fresh take or that establishes visuals to transport the player to a place they've never been before.
Below: CthulhuTech: Core Book cover ©2007 WildFire llc
Illustration by Mike Vaillancourt (lineart) and Trevor Claxton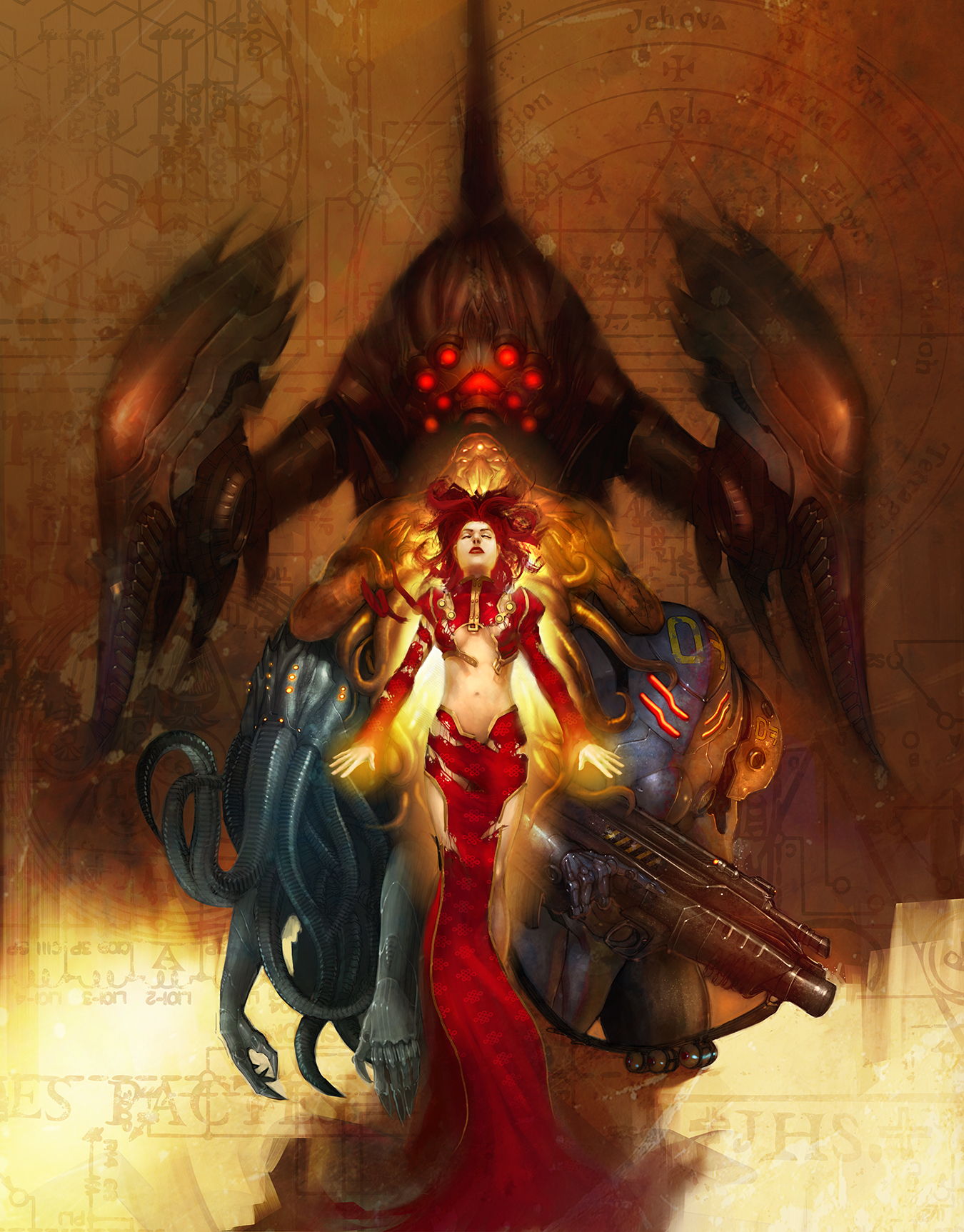 What do you find to be the most difficult aspect about working for the game industry?
There's never enough time to do everything you want to do and hit the deadline. One of my favorite quotes is, "Slow and steady blows the deadline". 
How have you overcome these kinds of roadblocks or situations?
Creative problem solving is a very important part of every creative job. In illustration, it could be that you need a heavily populated scene with a dozen characters with two key figures with a day to do the work. One solution would be to establish a single focal point and focussing time on rendering one area. If you leave the surrounding details looser you create a shallow depth of field that requires far less time than fully rendering every figure in frame. 
In 3D you could be modeling a gothic cathedral with hundreds of pillars but the main focus is the altar. To speed up the process you model one pillar and then duplicate it hundreds of times and spend most of your time on the altar. It all boils down to effective time management and determining the visual hierarchy. 
Do you use your intuition in your work, in choosing where to go next? Tell me about what a typical project flow looks like for you from initial idea to final render and delivery to your client.
I can usually tell when something isn't working. Sometimes it's obvious, other times I'll look at a piece and it might take me a bit to figure it out. When I get stuck I tend to turn to others to give me their thoughts. When I've been looking at something too long I could lose sight of the big picture and a second set of eyes always helps! 
For the standard illustration workflow I request 3-5 black-and-white thumbnail sketches to start the process. One of three things happens in this stage; I either pick one of the thumbnails, provide a quick adjustment to my favorite of the batch, or sketch up an alternate using the elements that I liked from each of them.
In the second stage I request a rough sketch that establishes all of the major details where the characters and environment are following both the written notes and provided concept art details. This step regularly includes a value pass with colors blocked in and my feedback typically addresses anatomical errors, costume inaccuracies, perspective issues, lighting notes, and atmospheric details. Similar to the thumbnail sketch round I do my best to provide a rudimentary paint over to illustrate what I'm requesting if I have changes.
The next WIP typically leads to the final as it incorporates all of the major detail adjustments and is in the final stages of painting. Any adjustments at this point should be minor and require less than an hour of work. The things that I'm adding at this point are either color adjustments or added atmospheric details like another layer of smoke or some burning embers floating across the frame.
The concept art workflow on the front end focuses a lot on silhouette and working with the larger shapes. As the process moves on the little details get added that flesh things out. For miniatures, there's a bit of a science to designing for 30mm-120mm models as you have to take into account part count, ease of assembly, and how fun it would be to paint.
Below: Cover art process for the Iron Kingdoms: Unleashed ©2015 Privateer Press Inc.
Artwork by Andrea Uderzo (lineart) and Néstor Ossandón.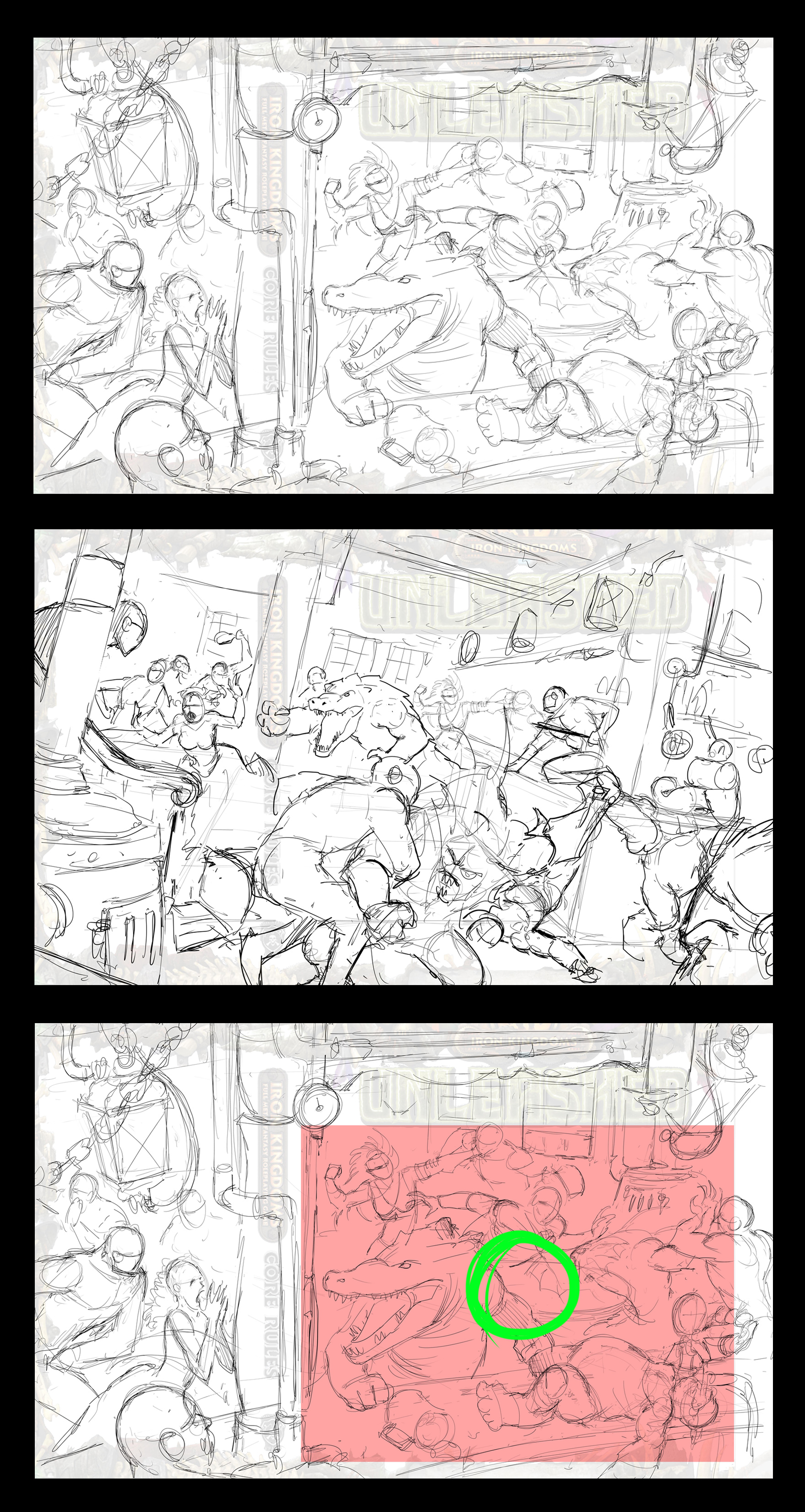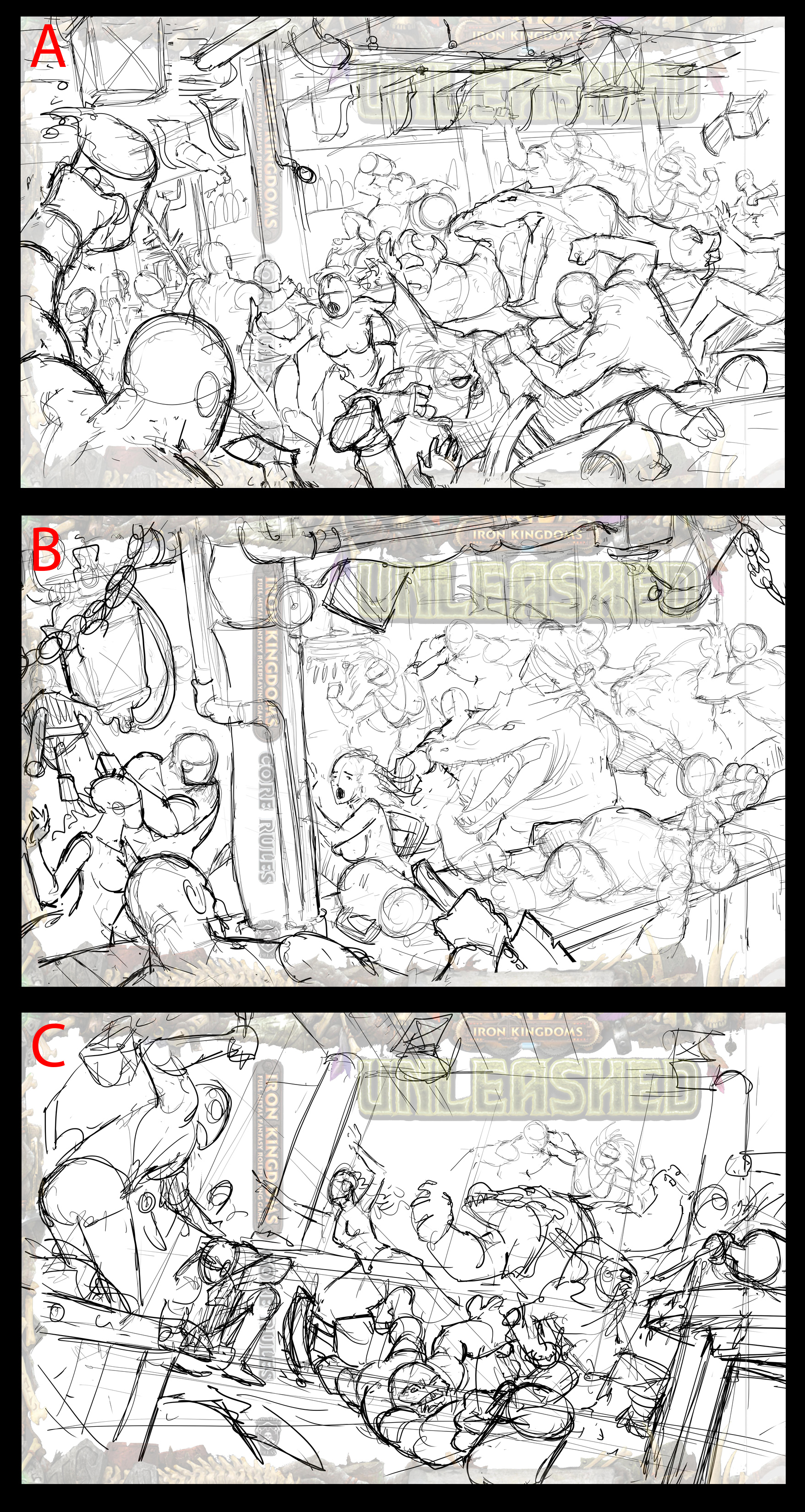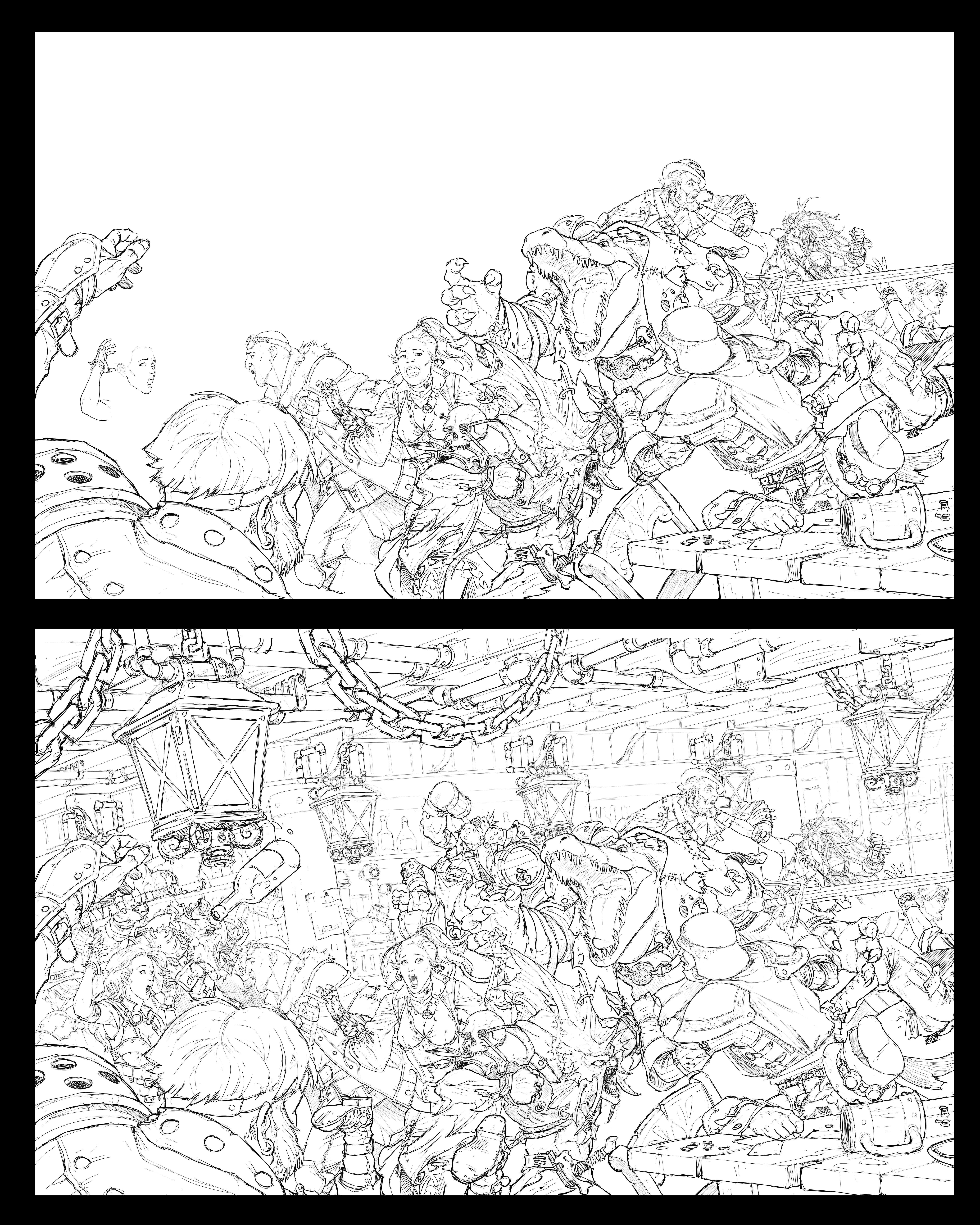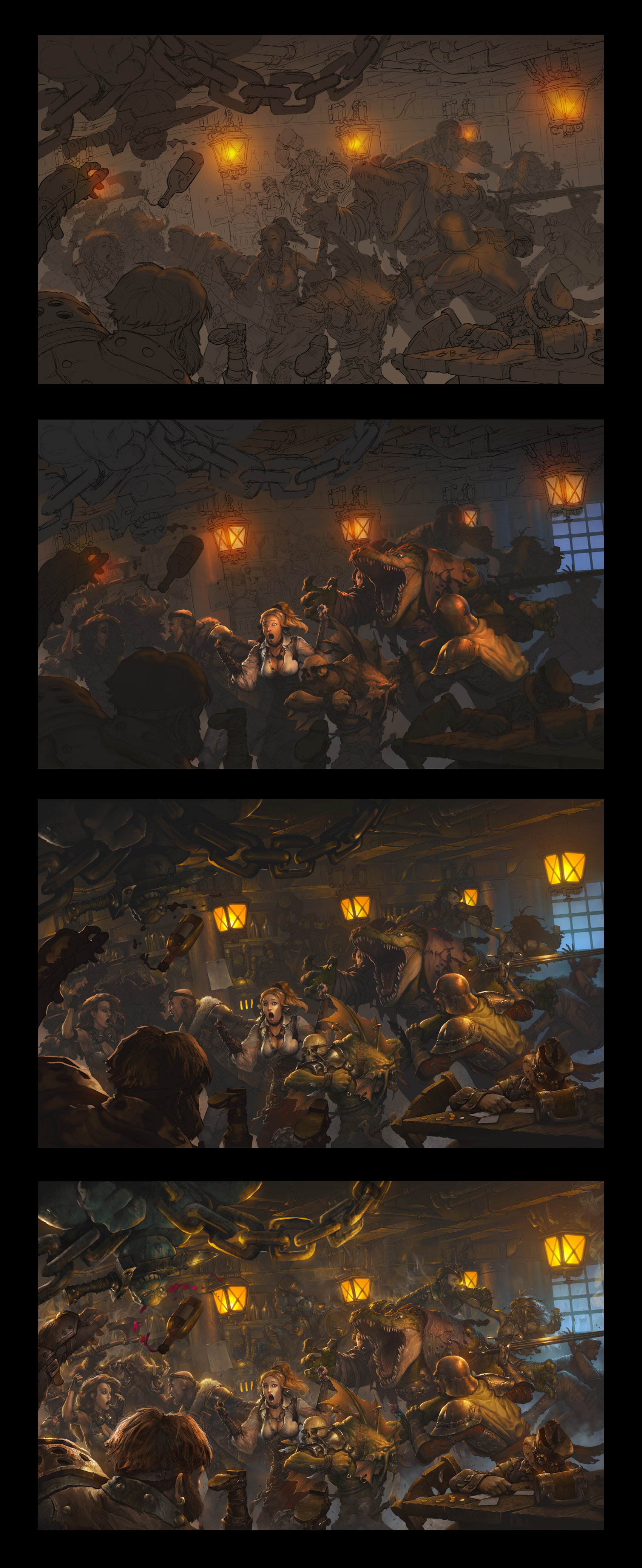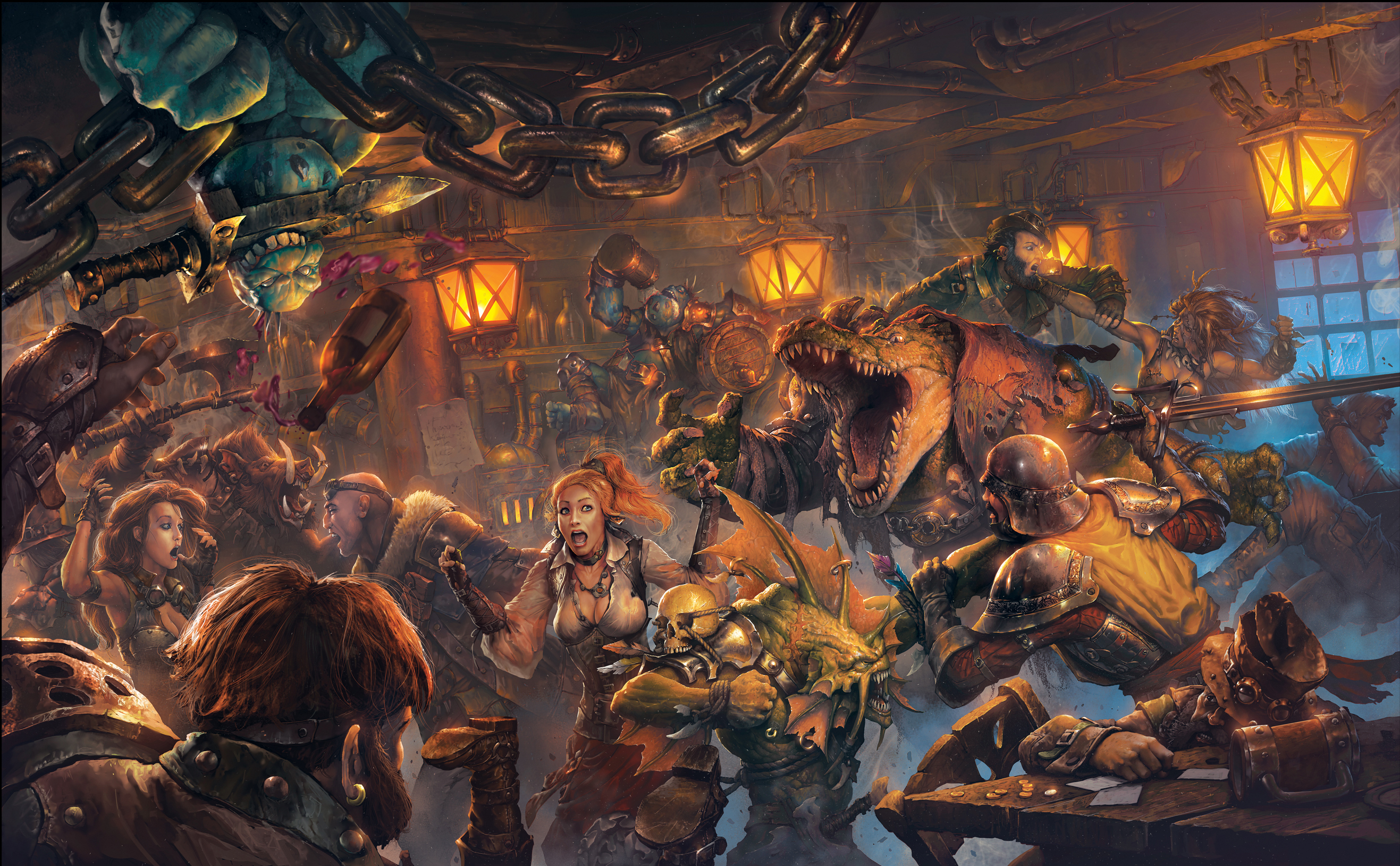 What brings you the most joy as an artist?
Seeing something I helped create on a store shelf, nerding out with artists at conventions, and geeking out with the gaming community are always rewarding experiences! Those moments are a close second to when my son gets really excited about something I've worked on and he says, "Woah!!!! You helped make that?!!! SERIOUSLY?!!! MIND BLOWN!".
Below: Aprocrypha Adventure Card Game © 2017 Lone Shark Games, Inc.
Thumbnail sketches by Oscar Cafaro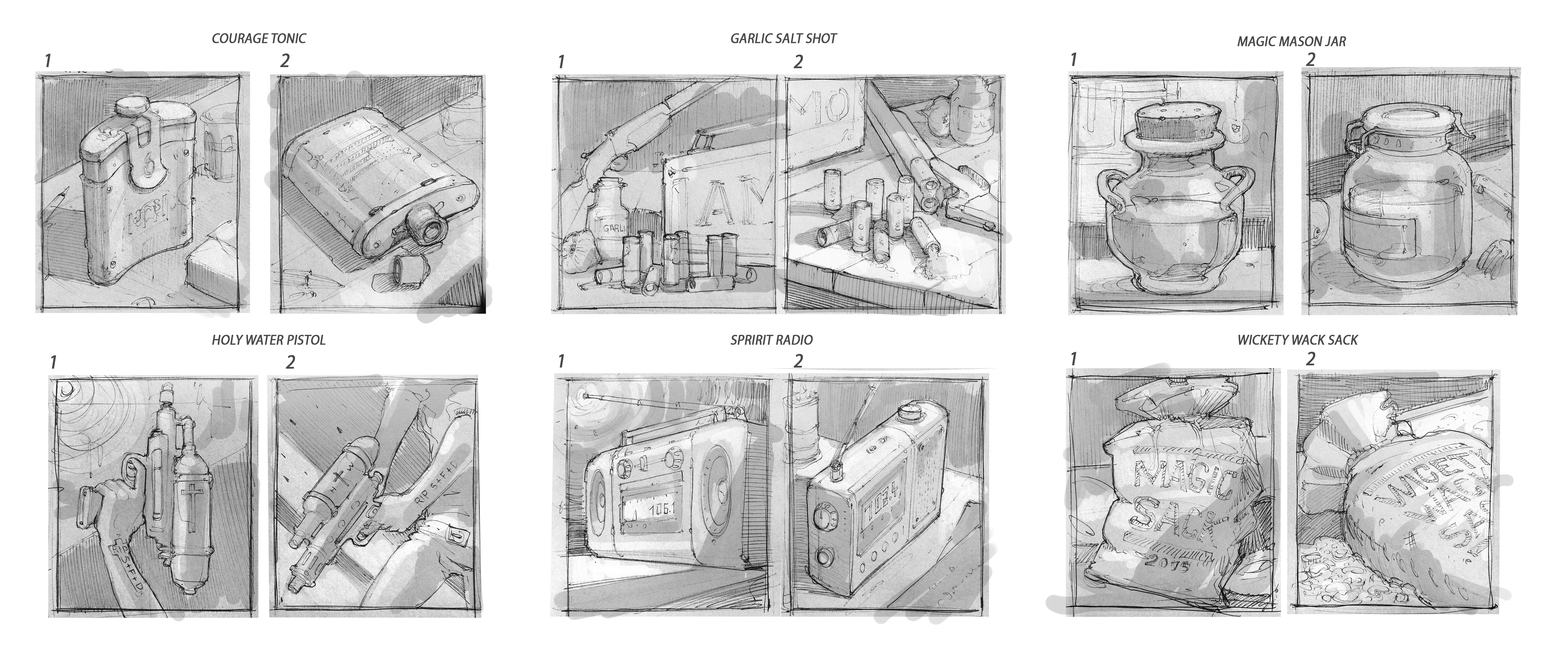 What mindset do you think people need to make it as an artist today?
If you want to be successful as an artist in the entertainment industry it requires a lot of hard work and dedication. There's no place for complacency and you have to keep up with the current trends and tools to have a career that will last a life time. For artists breaking into the industry the notes below cover some of the lessons I've learned over the years.
- Draw from life, study value, lighting, color theory, design, and composition. Strong foundation skills will provide you with the knowledge you need in order to create your own style even if you're not aiming for realism. 
- Go to life drawing and do anatomy studies! If you don't know anatomy and try to fake it a professional will be able to spot that a mile away. 
- In a portfolio review if the reviewer says that you need to work on a particular foundation skill never say, "It's my style". *see the previous bullet point*  
- Maintain a sketchbook, build a large reference library, and always use reference when you haven't drawn something before.
- Only show your best work in your portfolio. As an Art Director, I'm looking for your worst piece. If you demonstrating that you're ok with a bad piece of art representing you, or you're not quite at the point of being able to identify your worst work, that's not a good sign. If you're not sure what your worst pieces are, contact a professional for feedback. At a convention you'll regularly have a captive audience and if you can't go to shows then send an email to artists or art directors for feedback. There are a lot of artists and art directors that remember what it was like to break into the industry and will take the time to provide feedback when they have a spare moment.
- Regularly communicate with clients and always make sure you ask questions if something isn't clear. You have one shot to make a good impression. Communicating with your client and putting in the effort to work on your relationship with them goes a long way! In a lot of freelance scenarios communication can be isolated to email and it's really easy to read into the written words and not get the intent and/or meaning. Asking pointed questions around any meaning that you're attaching to that e-mail can create a better level of understanding that yields amazing results!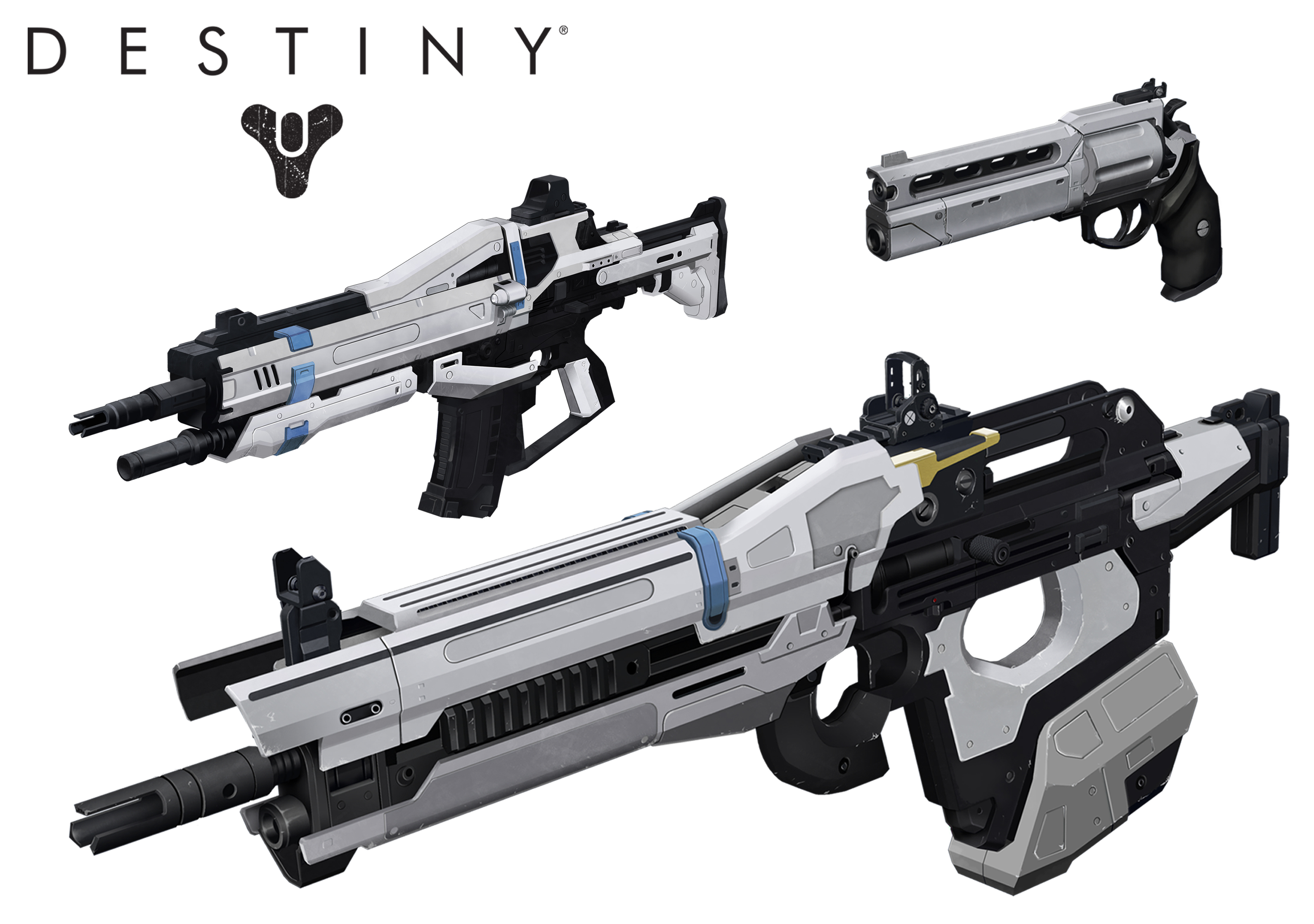 BONUS:
What is a dream project you would love to work on, and why?
This is a really hard question to answer! Over the last 12 years, I've worked on card games, board games, RPG's, children's toys, video games, hobby games, small business branding, and even a local political campaign. In several of those categories the subject material has been all over the map and I think I may have covered every popular genre by now. With that stated, the short answer would be that as long as I'm working on a project whose team is passionate, dedicated, and aims to inspire the next generation of creative talent I'm happy!  
---
Looking to uplevel your game and want someone in your corner to help you get there? Life coaching can definitely help!
If you're ready for the next big step on your path and you'd like some honest feedback from someone with a fresh perspective, or you simply want to learn how to tune into YOUR authentic voice so that you choose what's best for you with confidence and joy -